Like any self-respecting backpacker, we have tried every possible and imaginable way to get to the wonder of Machu Picchu spending as little as possible.
It was not that easy, but – now we can say it – we did it.
First of all, we have avoided the most comfortable, but more expensive mean of transport: the train to Machu Picchu.
The prices of the train from Ollantaytambo to Agua Calientes are very high.
Here's how we got to Machu Picchu low cost.

HOW TO REACH MACHU PICCHU LOW COST – A FEW DAYS BEFORE:
We bought the entry ticket online about a week before our arrival in Cuzco on the site of the Peruvian Ministry of Culture. The website is very slow but at least it's in English. The entrance to Machu costs 152 Soles (€ 40,00) and it doesn't include Wayna Picchu (And there are not many ways to save money on this…)

HOW TO REACH MACHU PICCHU LOW COST – THE DAY BEFORE:
1) In the early morning of the day before the visit, we took a bus from Cuzco to Santa Maria from the bus station of Avenida Antonio Lorena MAP HERE  – Duration 5,5 h./ 6 H. – Soles 15/20 per person (€ 4,00/5,00)
(ATTENTION: you can also find many combis to Santa Maria departing from the same street – faster and at a very similar cost!)
2) From Santa Maria we easily found a ride on a combi to Hidroeletrica.
(WARNING: the drive is on a road overlooking a canyon, so it is not suitable for people with heart problems and for those suffering from a car ache) – circa 1/1,5 h. – 15 soles per person (€ 4,00).
3) Once in Hidroeletrica (at 15.00/15.30 p.m.) we started the long walk towards Aguas Calientes. The walk is flat and easy (follow the train path throughout its duration) – About 7 km.
4) Once in Aguas Calientes (17.30 pm and exhausted!), it is easy to find a clean room with bathroom at only 50 soles per night – (€ 13,00 per room).
5) in the evening, almost all restaurants offer cheap 15/20 soles menus (€ 4,00/5,00).

HOW TO REACH MACHU PICCHU LOW COST – DAY OF THE VISIT:
Here the game starts to get difficult…
1) Wake up at 5 a.m. – Pitch Black. Fortunately, our cell phones illuminate the path to the beginning of the ascent. In an hour and a half of steep and uphill climb (FREE) we finally reach the stunning Machu Picchu.
(ATTENTION: those who don't want to climb can take a bus that costs 12 USD one-way or 24 USD return)
2) Visit of the site until 11/11.30 a.m. (4 hours are more than enough to fill your eyes and soul of this wonderful place).
3) Walk back (45 minutes) to aguas calientes and come back to Hidroeletrica on the same road (2 hours)
4) After a quick lunch in Hidroletrica, take the collectivos to Cuzco at 3 p.m. – 6 Hours-35 Soles (€ 9,00 per person)
So, excluding the ticket price and the costs of food and accommodation (which are in the average of the prices of Peru), we spent only 18 EUROS per person to reach the incredible Machu Picchu from Cuzco and come back! EASY! 😉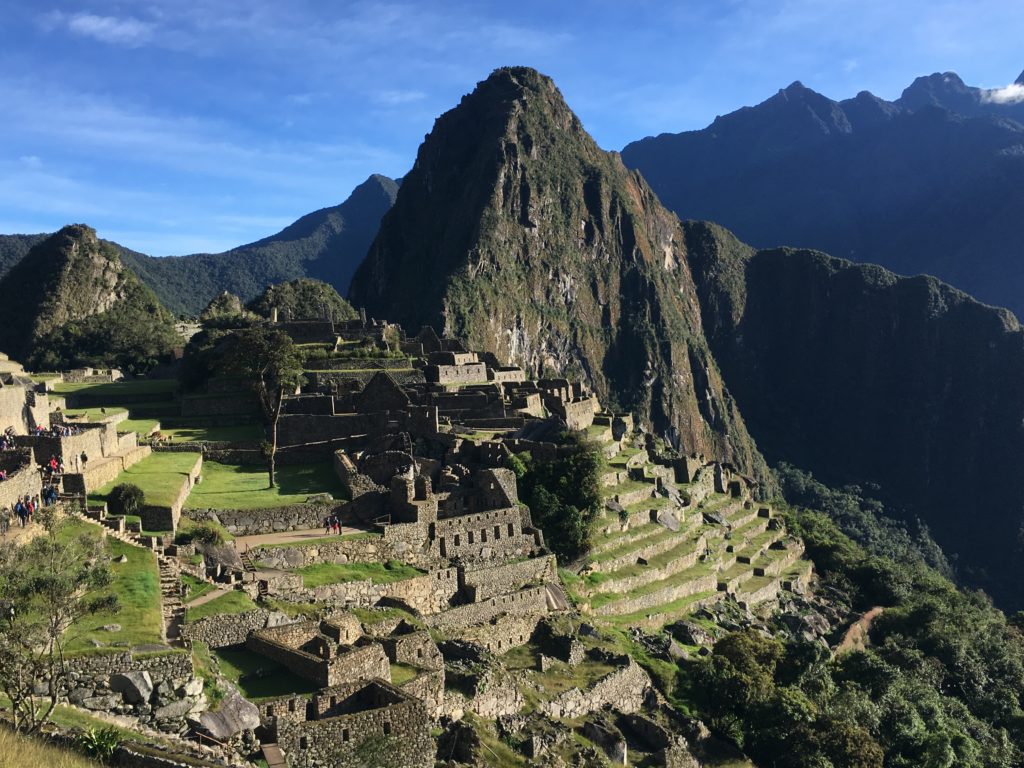 HERE more posts related to Perù
Ciao, siamo Angela e Paolo e a gennaio 2018 siamo partiti per un viaggio a tempo indeterminato. Da allora giriamo il mondo con un budget di 10€ al giorno.

SCOPRI TUTTO NEL NOSTRO LIBRO