What can you do and see in Ecuador when you have only few days and a low budget?
This is what we were checking before travelling to Ecuador, because we didn't enough budget and time to fly to Galapagos.
In the following map, the details of our 8 day trip to Ecuador.
We travelled around Ecaudor using buses or local transports, spending few moneys but always feeling safe and comfy (there are severe police controls on all buses).
We chose the cheapest options also to sleep, spending an average of 12 euros/night for a double room (breakfast included).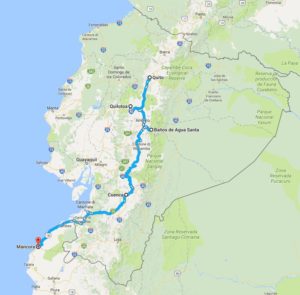 Here is what you can see in an 8 day trip in Ecuador:
Day 1: We arrive at the Quito airport and we get on a bus outside the arrivals entrance.
It takes us directly at the station where we catch a bus for the city centre.
Day 2: Quito is a breath-taking city, not only for the altitude but also for the beauty of its plazas and churches. There are many policemen walking around in the centre and that made us feel safe at any time. An advice: on Sundays, there are no places open for changing money.
Day 3: bus to Zumbahua (change in Latacunga) to visit the Quilota crater lake (the fog slightly changed our plans)
Day 4: A stunning view of the Quilotoa crater (here our adventure). Then back to Latacunga to chatch a bus to Riobamba (excluding Chimborazo, there's not much going on in this town).
Day 5: Early in the morning, we leave to Banos, where we have enough time to visit the city centre and relax in a thermal bath.
Day 6: Even if it's pouring, we decide to walk to the amazing Paillon del Diablo waterfalls. Then back again to Banos to enjoy another evening in the thermal baths.

Day 7: From Banos to Cuenca on a night bus. We spend the day wandering around Cuenca's flower markets, food shops and churches.
Day 8: We wake up early in the morning to go for a walk in the wild Cajas national park. This is our last day in Ecuador before leaving for Mancora (Perù) on a night bus.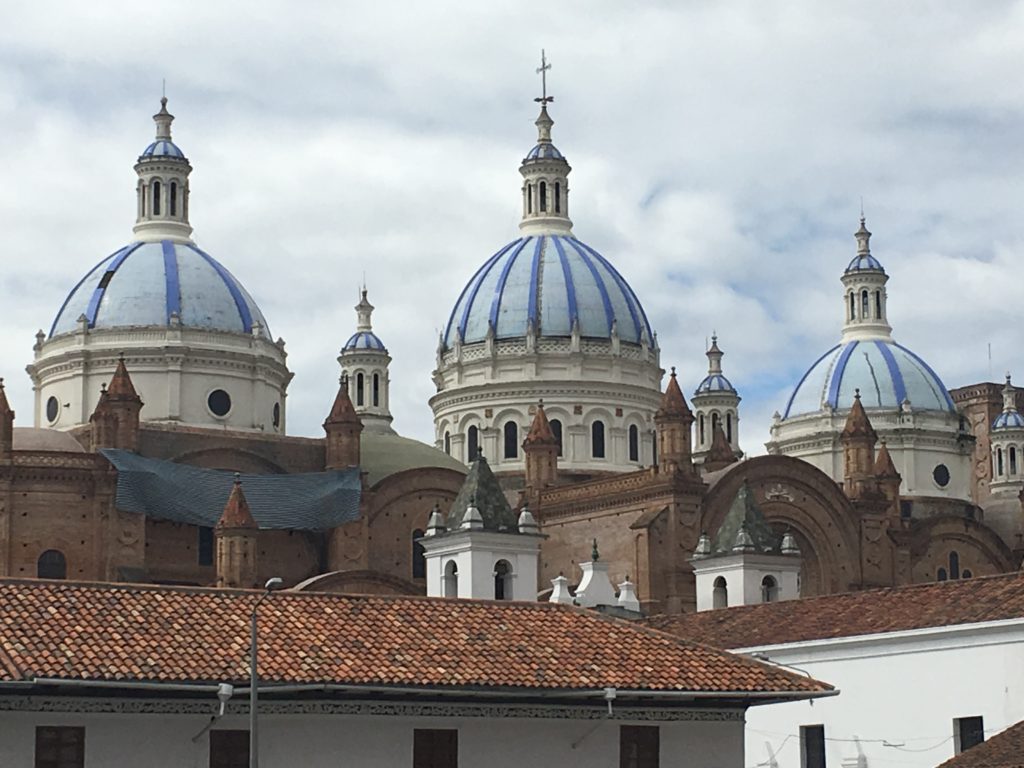 You probably noticed we didn't include in our trip the Nariz del Diablo, the most famous railway line in Ecuador.
We did that on purpose, after realizing that nowadays the Nariz del Diablo is just an expensive touristic attraction (you can no longer travel on the roof of the train, as it used to be in the past!).
What do you think of this idea for an 8 days trip to Ecuador?
What's your experience? Looking forward to reading from you!
Perciò 
HERE other posts related to Ecuador
allora
quindi
Ciao, siamo Angela e Paolo e a gennaio 2018 siamo partiti per un viaggio a tempo indeterminato. Da allora giriamo il mondo con un budget di 10€ al giorno.

SCOPRI TUTTO NEL NOSTRO LIBRO