What are the means of transport that can be used to get around independently in Rajasthan?
How much do they cost? How fast are they?

Whether the distance is a few kilometres or many more, in India you can always find suitable means of transport.
However, in this post you will not find any information on cars with drivers or organized tours.
It is a list of means of transport that you can catch if you choose to visit Rajasthan independently and without too many plans.
Trains, buses, tuk tuk are also caught by locals, so they can make an authentic experience of life in India, but, at the same time, this will require a good dose of "Spirit of adventure"!
As foreigners, you will be in the limelight if you'll choose to catch public transports and many people will try to help you, give you suggestions and information.
There are no golden rules to follow or detailed guides describing how to behave on public transport in India but, as in every journey, common sense and instinct are very important in order to understand who really wants to help and who is just trying to fool you.
Means of transport in India: TRAINS

Surely, the most famous means of transport in India are trains.
When you think about Indian trains, you immediately imagine old and rusty carriages with hundreds of people hanging at the train doors or crammed into them.
Let us say that this image is not so far from reality, but this is mostly related to the economy class tickets.
Trains have different classes depending on the comfort you are looking for. Each of them obviously has a different price:
1A Air conditioning Class 2A Air conditioning Class, 3A Air conditioning Class and SLEEPER without air conditioning but with rudimentary fans on the ceiling and open windows.
The train journey remains an unmissable experience of a DIY trip to Rajasthan and certainly it's more convenient and faster than buses.
Our experience: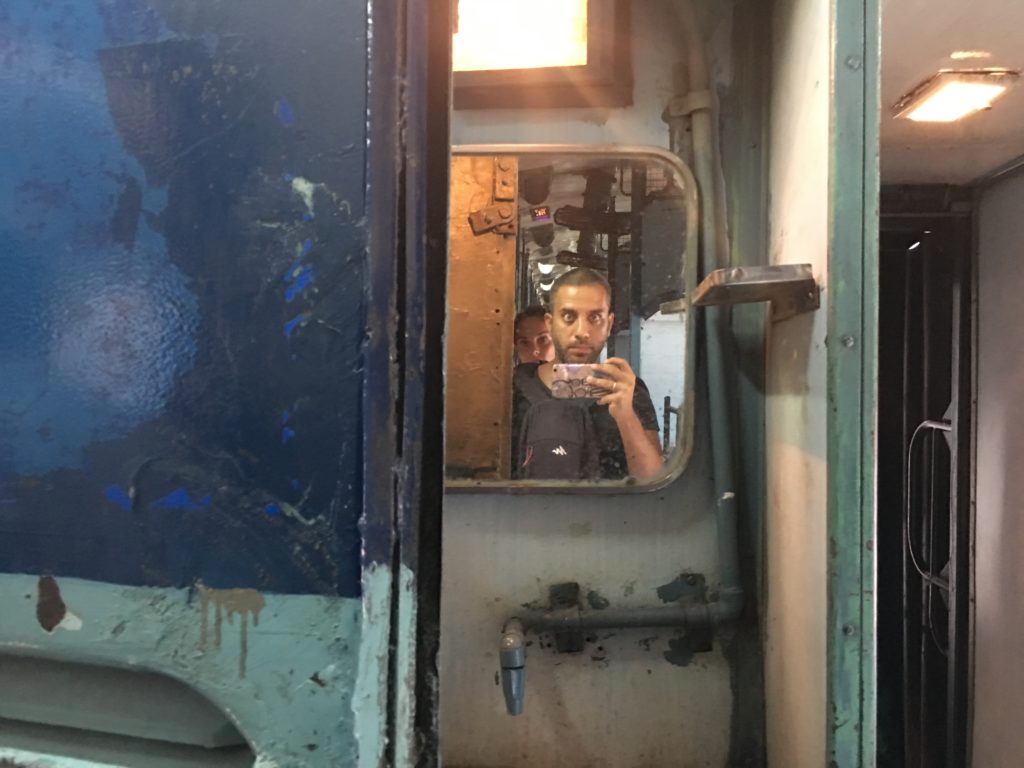 During our trip, we took the train from New Delhi to Agra with departure at 5 a.m.. We chose the sleeper class (the cheapest) and the experience wasn't that bad. The train arrived in Delhi on time and left after about half an hour. We had our assigned seat, and, for about 3/4 of the trip, there were many empty seats so we took advantage of it and took a nap. Without any particular problems we were in Agra in less than 4 hours.
The only downside was buying the train ticket in Delhi. In fact, as "foreigners" there is only one place at New Delhi main station that sells tickets (near the first track) but none of tuk tuk drivers, information officers at the station or people you meet will tell you that it exists. That's because everyone wants to send you to the agencies from which they receive commissions.
Means of transport in India: BUSES

Buses are a good alternative to trains. If you're suffering from carsickness, it's not exactly your solution.
Old and crappy, often with broken suspensions, speeding on dangerous roads of Rajasthan.
There are two types of buses: private ones (we have not seen many) and "government" ones.
Government buses are the oldest ones and they have small and uncomfortable seats. They usually stop to collect as many people as possible. Bus tickets can be purchased directly on the buses or, when you go to a station, to the kiosk. The cost is very low – less than 1 € per hour of travel.
Our experience:

The journey on a bus looks like a stressful one (maybe a little bit) but we liked it very much because it gave us the chance to live closely with people living in Rajasthan. In fact, usually we were the only travellers on the bus!
During one of these trips we also met a local politician who – after asking us millions of questions – left us all his hand-written contacts on a piece of paper… not an Italian politician, for sure!
Means of transport in India: THE NIGHT BUSES
This kind of buses is completely different, and that's why they deserve a separate paragraph.
There are two types: AC (air conditioning) and no AC. In each of them there are two types of places: SEAT, i.e. the normal seat, or SLEEPERS, i.e. small cabins with beds.
This type of buses generally covers long distances but you should be ready for various stops, including one for dinner.
Our experience:
We took a night bus to Mumbai, and we chose a sleeper seat on a bus without air conditioning.
Finding some bunks to sleep in, with curtains and the chance to lock yourself in, really surprised us. Actually, lying on a bus, between constant braking and accelerating, is not that comfy!!
Means of transport in India: THE UNDERGROUND
You can find the underground only in the biggest cities and it is the most convenient, fast and safe way to reach different places.
We took it in new Delhi, where it is really efficient, and in Mumbai.
In Mumbai it's actually an overground. It is therefore a train that stops constantly rather than a proper metro, but it's still fast and useful.
Our experience:
The very curious thing for us was finding out that there are some carriages that are reserved exclusively for women.
We'll never forget the look on their faces when they saw Paolo getting on the carriage! 🙂
Means of transport in India: TUK TUK e TAXI

Tuk Tuks, famous throughout Asia, are without doubt the cheapest way to visit many places.
They go fast and they slip between cars and cows in the middle of the streets.
They seem to fit only two people, but then you will also see them occupied by families with children.
You will have to bargain before you get on the tuk tuk. Keep in mind that there are always two fares, one for tourists and one for locals. But if you're good at the art of bargaining, you can certainly get good prices (it's always a few rupees!)
On the other hand, taxis are generally used to cover longer distances and you can find them in large cities.
In addition to the "normal" taxis, you will also find pre-paid taxis.
You'll find them mainly outside airports and railway stations. The advantage is that you will not have to bargain, but remember that the cheapest tuk tuks are a few meters away.

Ciao, siamo Angela e Paolo e a gennaio 2018 siamo partiti per un viaggio a tempo indeterminato. Da allora giriamo il mondo con un budget di 10€ al giorno.

SCOPRI TUTTO NEL NOSTRO LIBRO