Our full-time trip starts from Kuala Lumpur, the capital city of Malaysia.
The choice has been taken somewhat by chance but we really enjoyed this exotic and charming but at the same time so modern city.
Three days from our arrival, it's time to say hello. But it will only be a good-bye, because we like Kuala Lumpur very much, and we will certainly find a way to visit it again.
The impact with our new life couldn't have better frame, but here's exactly how it went.
Arrival In Kuala Lumpur:
When you land in a big city after a long journey, you do feel a little weird… "How will I get out of the airport?", "Where's the bus to the center?", "How far is the guesthouse?", "What about the money? We need to change something as we've to pay the bus!".
Compared to our past experiences, we have to say that it went better than usual.
We changed a few euros right next to the baggage area. A bad change but it was quick and easy (1 EURO= 4,54RM).
The jetlag slowly began to clouds our minds (an elegant way to say we were a bit fucked up!). Despite this, we managed to find the bus departure area quite quickly and, in a few minutes, we had the ticket in our hands and we were about to sit on the bus (cost 10RM per person to KL Sentral). Our destination, specially its beds, were always closer!! (from the airport there is also a train KLIA express that always leads to KL Sentral – ticket costs 55RM – now you understand why we chose the bus!)
Once in n KL Sentral, we took a train of the LRT line and in a couple of minutes we found ourselves two steps away from the guesthouse.
First opinion on Kuala Lumpur: the arrival went pretty well. Compared to the other great cities in which we have landed in the past, it has been much easier! Easy to understand how to reach the centre and at an acceptable price.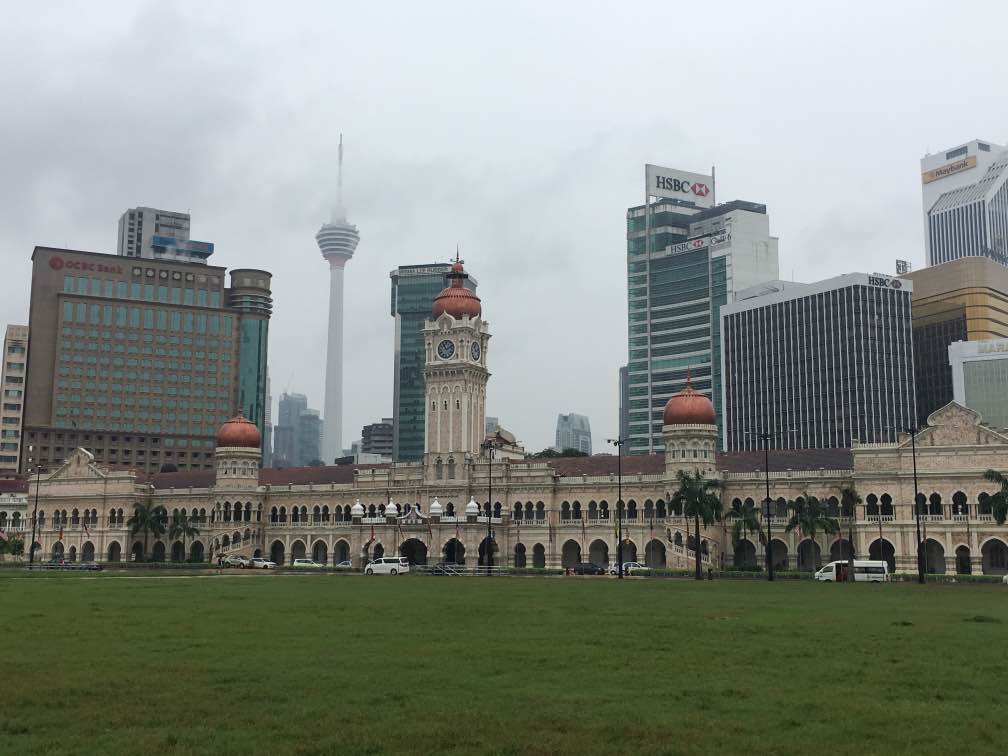 Kuala Lumpur on foot
Kuala Lumpur is a large city, with huge and tall skyscrapers that darken the sky, busy roads and on different levels and, obviously, pollution despite the rain. In this scenario, would you consider visiting it on foot? We tried it and we really enjoyed it!
We started from the main square "Merdeka Square". In the past it has been a cricket field, today it's a symbol of Malaysian Independence. Here stands the flag of Malaysia, on one of the world's highest flagpoles (about 100 meters!!) not bad ??
From the square you can admire various palaces such as "Sultan Abdul Samad" building or "Royal Selangor Club", behind which there are other pearls like "Mosque Masjid Jamek Sultan Abdul Samad".
What most affected us is the contrast between the soft and harmonious lines of these slightly coloured buildings, and the skyscrapers in the background, so impressive, grey and square.
Then, we took a nice walk in the Little India neighborhood… the jalebi cooked on the side of the road, the shops selling sari and the scent of curry brought us back with our mind to few months ago, when we walked through the chaotic streets of Delhi.
And for a while it felt like we were still there, maybe in the morning at dawn when there are few people (only cows were missing!).
From Little India, we arrive in the modern part of the city, the one hosting Petronas Towers. Two huge towers of steel and glass, so tall to make the view of the summit a little difficult. The fountain in front of them made us think of the beautiful fountains of the Taj Mahal, but I think the memory was bound only to the fact that we came from little India! ??
What a beautiful city…it just take a few miles and you discover different worlds! So from India we move to China!
China town, a district of the city that we liked very much and not just because there was our guesthouse.
Street vendors, lovely food, colorful shops, lanterns everywhere… but not only! Here you will also find the elegant central market – which kind of disappointed us because we expected something more rustic and less tourist – a beautiful hindu temple and a Chinese Temple.
To summarize our Kuala Lumpur on foot, we'd like to use two colors. The Orange of Chinese lanterns, of Little India and colonial buildings. And the grey of skyscrapers, roads and modernity.
Sport in Kuala Lumpur
Yes, in three days we have also played sports in Kuala Lumpur. No, we're not talking about badminton or hockey… we're talking about the steps! You read well, not climbing but stairs.
In particular the 272 steps that lead us to Batu Caves. These are hindu temples built inside very suggestive caves. Batu Caves are also famous for the impressive statue of the warrior God Murungan. These caves seem to be home of the biggest statue in the world built for this God. (Biggest Statue and tallest flagpole in the World… not bad as records!).
To get to the caves, just take a train from KL Sentral (Return 5RM per person).
If you want to arrive safely at the end of the staircase, the advice is: NOT bring food! The biggest threat is monkeys trying to steal whatever is edible!
As the first stage of our journey, it could not have been better city than Kuala Lumpur! It allowed us to recover from jetlag, and it cuddled us these first days of the longest trip of our lives.
Ciao, siamo Angela e Paolo e a gennaio 2018 siamo partiti per un viaggio a tempo indeterminato. Da allora giriamo il mondo con un budget di 10€ al giorno.

SCOPRI TUTTO NEL NOSTRO LIBRO