Traveling around Myanmar, we noticed groups of monks walking in the streets, especially in the early morning.
We have been looking for some information about them and we have also had a few words with a young monk who told us about his typical day.

Buddhist monks in Myanmar: who are they
They wear brown clothes, their head shaved and they often walk barefoot. The Monks we met in Myanmar, with their curious eyes and carrying their black bowls, are mostly very young boys and kids.
This is because it is tradition that every boy experience life in a monastery at least twice in life.
As a novice, between 7 and 20 years old, and as a real monk at about 20 years.
This "test" for someone can only last weeks, for some months while for others this become a life's choice. There is even a saying that says: "You must become a monk before you can become a man".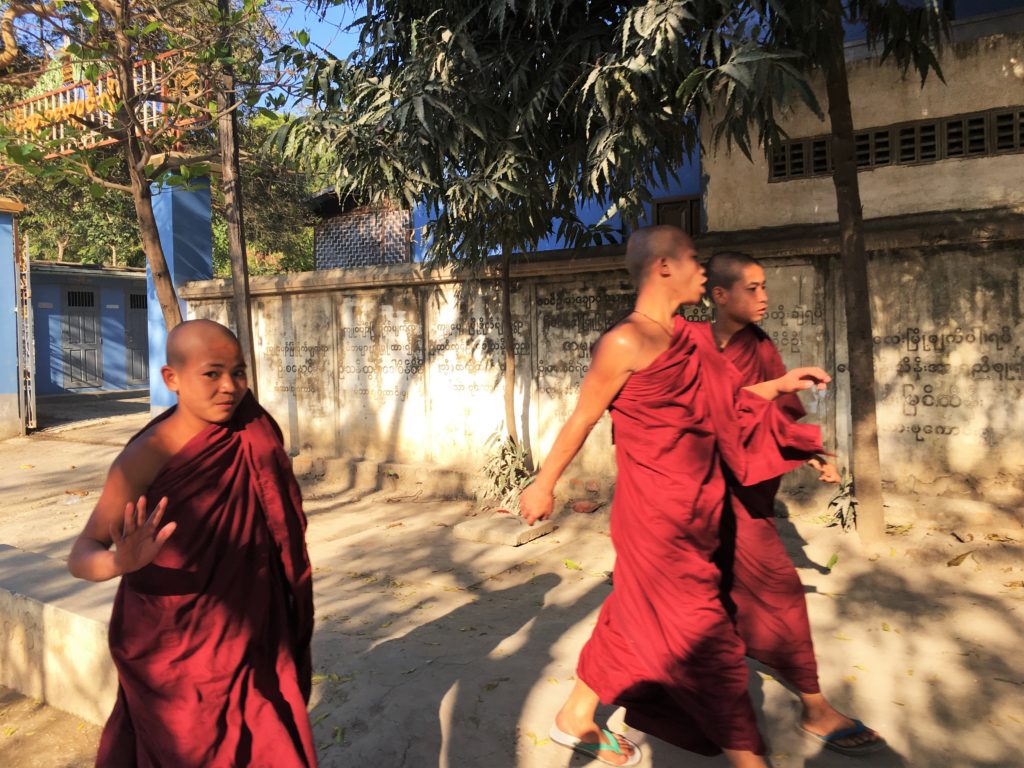 Buddhist monks in Myanmar: what do they do
Buddhist monks, in Myanmar, represent the highest level of the society and are recognized as "children of Buddha". They follow very strict precepts and spend their days studying and meditating.
For Novices the precepts to follow are only 10 and can therefore play football, watch tv and have fun as normal children.
For A Monk, however, things are much more serious.
The precepts to follow become 227 and life in the monastery is definitely tough: you sleep in a dorm, wake up at dawn, wash yourself with cold water and study a lot.
The Monks, ever since they are novices, study the Pali intensely in order to be able to read Buddhist Scriptures and learn the principles of Buddhist life.
If they attend monastic schools, they can also learn English, Maths and Physics. For this reason, the poorest families see in their son joining a monastery, the possibility for him to study.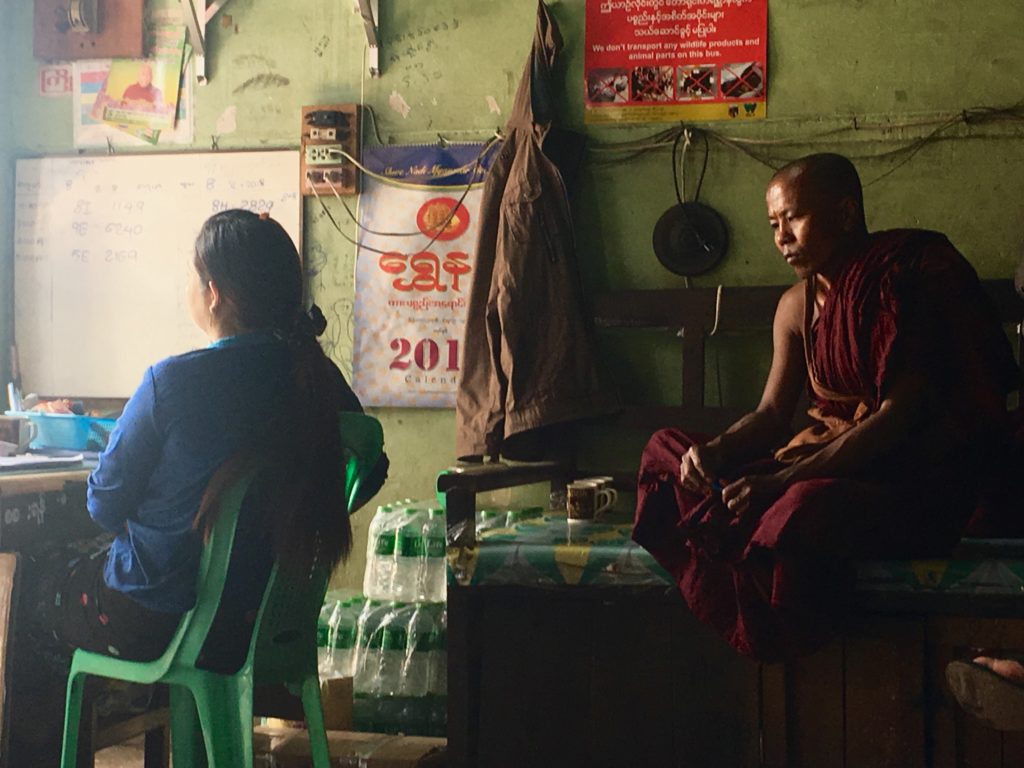 Buddhist monks in Myanmar: A Monk's day
In their studies, the Monks also learn English, so they are often kind with tourists, and sometimes they try to practice the English language with them.
It happened to us on the U-Bein Bridge near Mandalay at sunset time.
We were walking in the middle of the crowd, when at some point a young monk approaches and asks us "May I speak with you to practice my english?".
Wow, we think, what a chance.
And so, after some initial questions about where we come from, what we do and if we like Myanmar, it's our turn.
We find out that he's 19 and lives in a monastery in Amarpura near the bridge where we were.
We ask him to tell us about his typical day.
He explains to us that he wakes up very early at dawn and with other monks he walks on the streets of the village in order to collect offers from people, including rice, curry or other food he places in a kind of black bowl (we often take night buses and arrive at dawn so we have witnessed several times at this ritual and noticed that they usually receive money instead of food).
Then he goes back to the monastery where, along with the other monks, he has breakfast. The rest of the morning is dedicated to studies until 11am, time of lunch and last meal of the day.
In the afternoon, it is only possible to drink water or juice (this seemed to be the hardest part of the day).
The reaming part of the day is dedicated to study, meditation or game for young people until bedtime in shared dormitory.
Then we ask him a question maybe a little stupid "What do you want to do when you grow up?". Smiling, he tells us that he wants to continue studying and hopes to get into the Buddhist University of Yangon.

But, what about women??
In Myanmar besides the monks in their brown clothes, we also noticed many nuns dressed in pink and orange.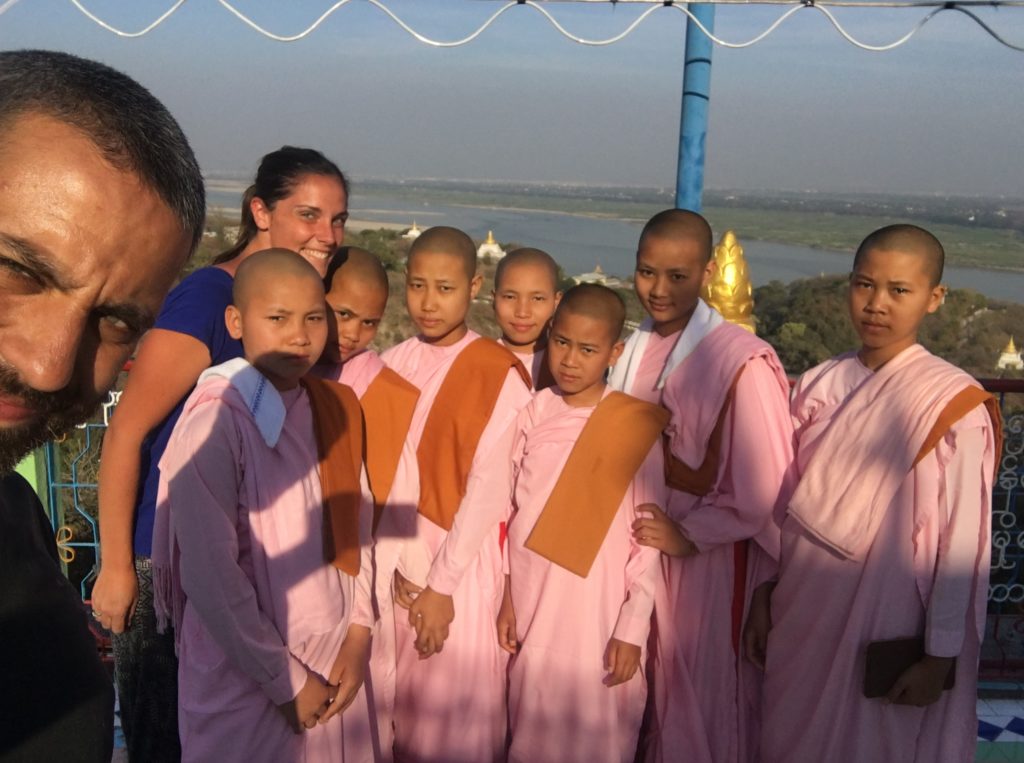 Buddhist nuns in Myanmar: who are they
This is also the case of young girls: becoming nuns they have the opportunity to study for free and leave poverty situations.
Clear Pink dresses and shaved head, their days take place in a very similar way to those of male colleagues: wake up at Dawn, gathering offers of the faithful, two meals and much study and meditation.
At present in Myanmar, however, nuns are not recognised with equal value of male monks because it is not possible for a woman to take votes by law.
Little nuns and monks, with their colorful tunics, run barefoot on the side of the streets…
This is one of the images of Burma that we will certainly take with us from this journey.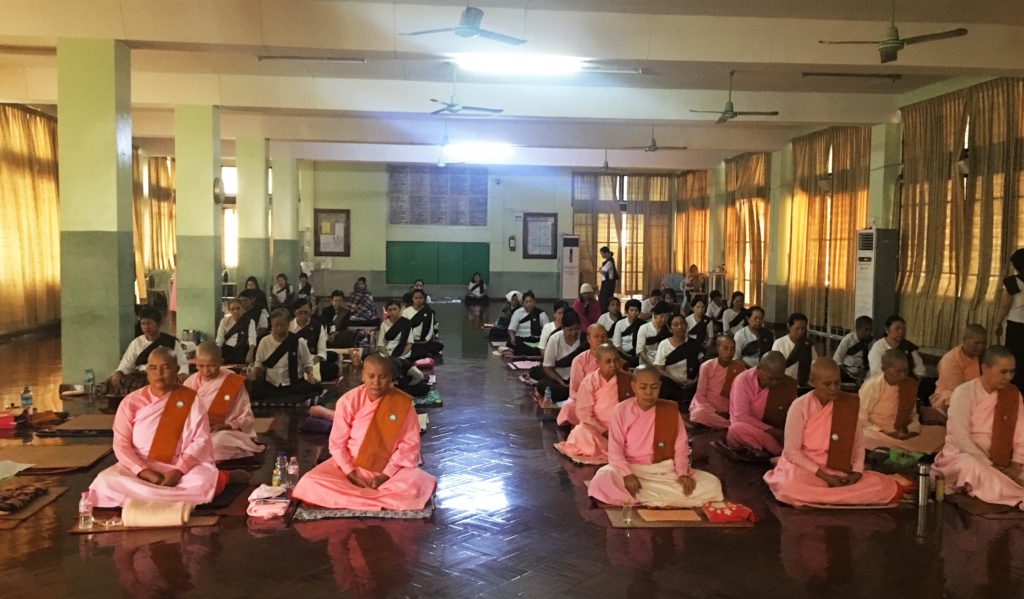 Ciao, siamo Angela e Paolo e a gennaio 2018 siamo partiti per un viaggio a tempo indeterminato. Da allora giriamo il mondo con un budget di 10€ al giorno.

SCOPRI TUTTO NEL NOSTRO LIBRO