It's 7 when, with our two backpacks and a guide named Mr Robin, we start from Kalaw, Northern Myanmar.
The sun has just risen and it is still cold, but we are full of energies because we are about to start a wonderful trekking that in two days will take us to the famous Lake Inle.
Here you'll find some useful information for those who want to pass some time in the incredible Myanmar's countryside to see closely life in rural villages.
You get tired because you walk a lot, you sweat during the day and it freezes during the night, you sleep on a thin mattress on the ground… but it's totally worth it.
Trekking from Kalaw to Lake Inle: preparation
As soon as we arrive in Kalaw, a quiet and relaxed town immersed in the mountains, we note that almost everywhere there are small offices offering two or three days guided trekking.
We had a look to some of them to find out details and costs.
Our final choice, though, has fallen upon a two days trekking, organized by Golden Lily, the guesthouse where we slept.
To convince us not only Mr Robin, the guide with a calm voice and engaging smile, but also the cost of only 40.000 kyat for two days-1 Night trek (meals and overnight stay included). Another option was 55.000 kyat for the three days-2 Night trek.
In addition to heavy clothes for the night and light ones for the day, in your small backpack you'll need drinking water, washing products, towel, insect repellent, sunscreen, cell phone with flashlight, powerbank.
Trekking is not difficult but not extremely easy. You'll have to face some hours of walking under the sun, climbing uphill and downhill, and about 15-18 km a day. But, above all, you must bear in mind that you will sleep in the house of farmers with poor electricity and bathrooms / outdoor showers.
For those who, like us, are not used to walking for long routes, we recommend to choose two days trek instead of three days one.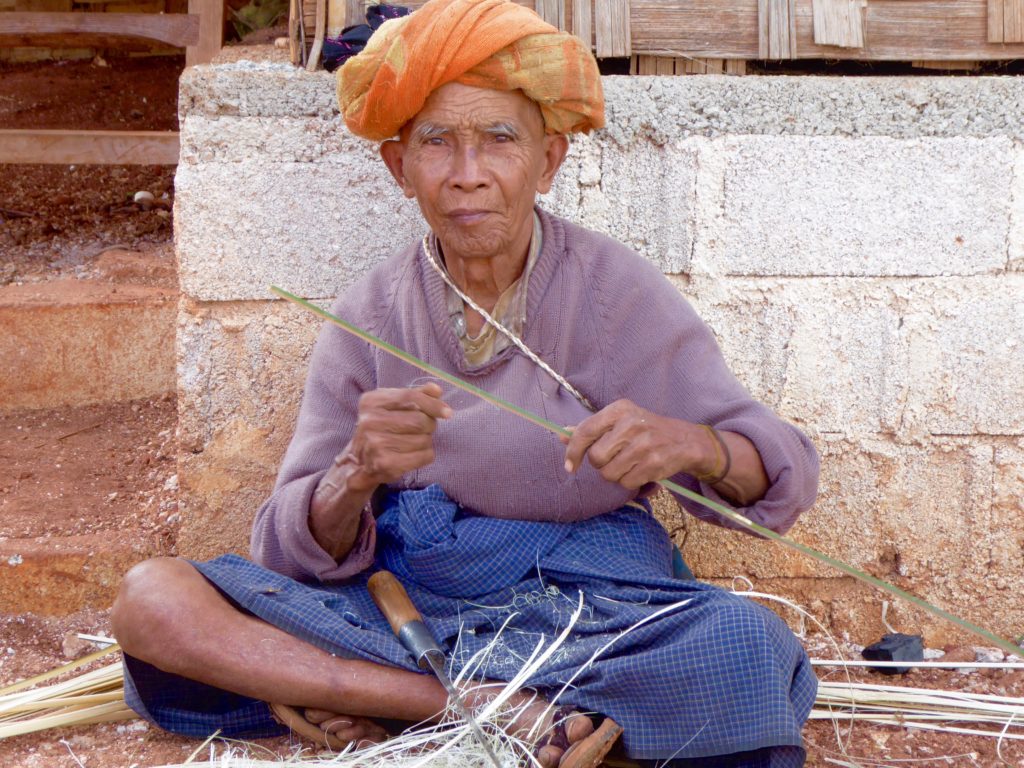 Trekking from Kalaw to Lake Inle: On the path
Our experience is based on two-day trekking that led us to discover small villages and nature of the countryside of Myanmar.
We walked on muddy roads through places out of time.
Villages consisting of bamboo houses, a school and a temple, where we met curious, smiling and kind people.
Children running happy screaming "Mingalarbar" (hello), busy women in the fields or doing the laundry, men who take the oxen to pasture… truly a wonderful experience. In addition, we have been lucky enough to attend preparations for a wedding: people gathered to prepare food and various objects (tables, stools…) for the great event.
We were pretty hesitant about taking pictures because we felt like we were meddling in their lives. So we have always asked for permission first.
All of this really makes you forget the fatigue of the miles.

Trekking from Kalaw to Inle Lake: accommodation
Meals and accommodation are included in the cost of trekking.
In our case, we slept in the house of a farmer as well as chief village, who cooked for us also an exquisite dinner based on rice and various curries. In the house there is a kitchen with fire, a room with thin mattresses on the ground, and a nice terrace. The bathrooms are outside, as well as the shower that lies under a banana tree and consists of a tub of water and a bowl. Better use it before it gets dark and cold!
The experience of sleeping in a house in a small village is really priceless and the show of stars in the sky at night is the icing on the cake.

Trekking from Kalaw to Inle Lake: by boat on the lake
At the end of the second day of trekking, you reach a river from which you embark to discover the wonderful Lake Inle. (before the last stretch of path you will be required to pay a government tax of 13500 Kyat).
The boat is very similar to the Thai longtail boats. You sail for about an hour through floating villages and passing under small wooden bridges.
During the journey, we were also able to catch a glimpse of the famous fishermen of Lake Inle.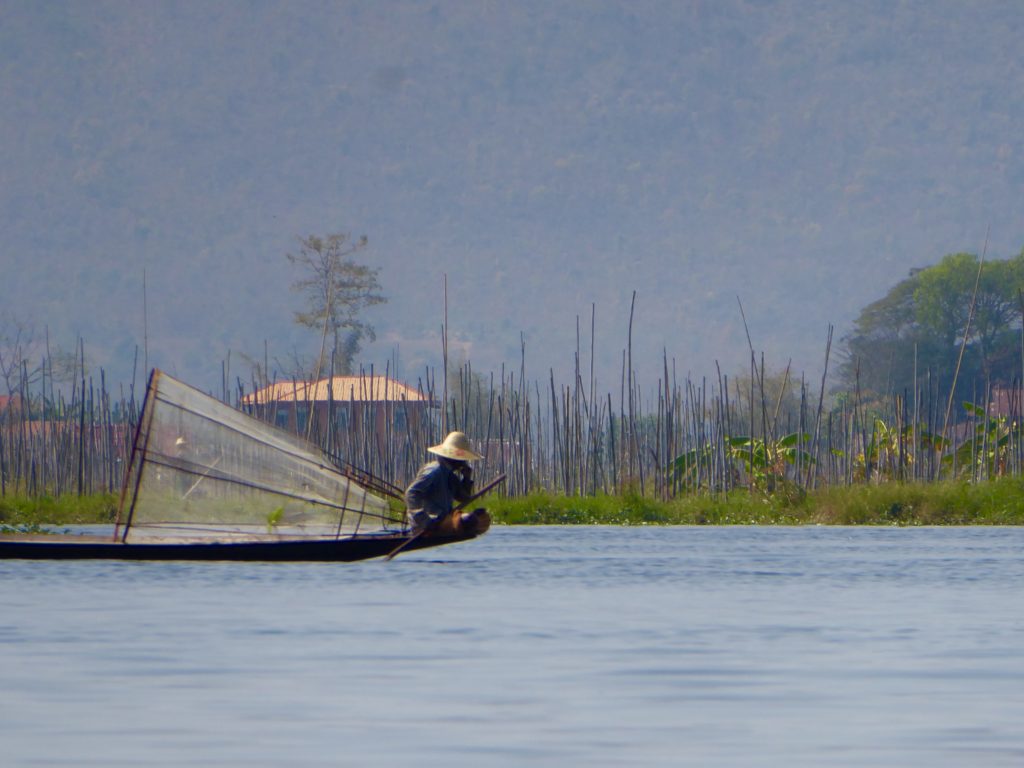 Trekking from Kalaw to Lake Inle: our opinion
If you go to Myanmar, just do it!
It is absolutely worth it and for us it is one of the most beautiful experiences in the Country.
Ciao, siamo Angela e Paolo e a gennaio 2018 siamo partiti per un viaggio a tempo indeterminato. Da allora giriamo il mondo con un budget di 10€ al giorno.

SCOPRI TUTTO NEL NOSTRO LIBRO