How are people of Myanmar (Burma)?
What to expect from a trip to Myanmar (Burma)?
Burma has 135 ethnic groups and 8 different breeds recognized: Bamar (70 % of the population), Chin, Kachin, Kayah, Kayin (Karen), Mon, Rakhaing and Shan.
This means a huge variety of traditions, languages and cultures that would be difficult to describe in a post.
Our intention here is to tell our direct experience, to bring to know a truly fascinating people with habits and costumes often far away from ours.
We will not mention sensitive issues, such as internal fights between different ethnic groups, because we do not feel that we have the right knowledge to deal with such facts.
Here you will find the tale of two travellers who have been in Burma for about a month and are madly in love this Country and its people.
HOW ARE PEOPLE IN MYANMAR (BURMA): THE LANGUAGE
The official language of the nation is Burmese and only few people, especially in the cities, speak English.
So, in addition to practicing to mime basic actions (such as eating, sleeping, bathroom and above all " there are entrails in that dish?") to fully enjoy Myanmar, we recommend learning two keywords:
MINGALARBAR = hello
It's the key word you'll learn straight away because everyone you meet will tend to greet you with a smile and a mingalarbar. It's a word with a sweet sound that seems complicated to pronounce at first but that after a few days in Burma, it comes out spontaneously.
GE-SU-BAH = thank you
This is another super important word to use to thanks the burmese for the great hospitality.
ps: to ask "how much is it?", just use the name of the currecy Kyat – pronunced "chgiat"
HOW ARE PEOPLE OF MYANMAR (BURMA): RELIGION
Religion influences people's daily lives. The Buddhism Theravada look is the most widespread form of worship and is practised by around 80 % of the population.
This explains why so many pagodas, caves and images of the Buddha.
All these places are sacred so to visit them you must respect certain rules: No short pants or uncovered shoulders neither for men nor for women, no shoes and socks within temples.
Furthermore, monks cannot touch or be touched by a woman, nor take anything directly from female hands.
Temples, however, are not only places of prayer but also of education.
It is tradition that all men throughout their lives spend weeks, months or ages within a monastery as novices or monks. (Here Monks and noons in Burma)
The offering to monks at dawn, the pray at the statue representing the day of birth and the pilgrimage to the Golden Rock are just some examples of the rituals of this religion.
HOW ARE PEOPLE OF MYANMAR (BURMA):GENTLEMEN
Men in Burma wear skirtS. It is the longyi, a kind of long sarong with geometric prints that is fastened with a knot. In the office, in the tea houseS, at the market, to work, the longyi is perfect for every occasion. It is paired with shirts or t-shirts and always with the flip-flops.
A local custom that affects a little everyone, but mostly men, is to chew betel but above all to constantly spit out the red liquid it produces. It is quite difficult for those who are not Burmese, to get used to the typical sound of spit and to the view of the red fountain. But it's a gesture that everybody does. It almost seems to be a stress reliever, kind of like us eating gum, so better to resign and learn fast to avoid the red spots on the ground. Chewing leaves are prepared at the moment and sold at every corner of the streets. All bus drivers stop buying them several times during the journey!
There's a place where Burmese men meet and spend their afternoons chatting, it's the tea house.
Sitting on chairs for children, sipping coffee mix or eating a plate of noodles, they find themselves talking or watching football matches or kickboxing fights.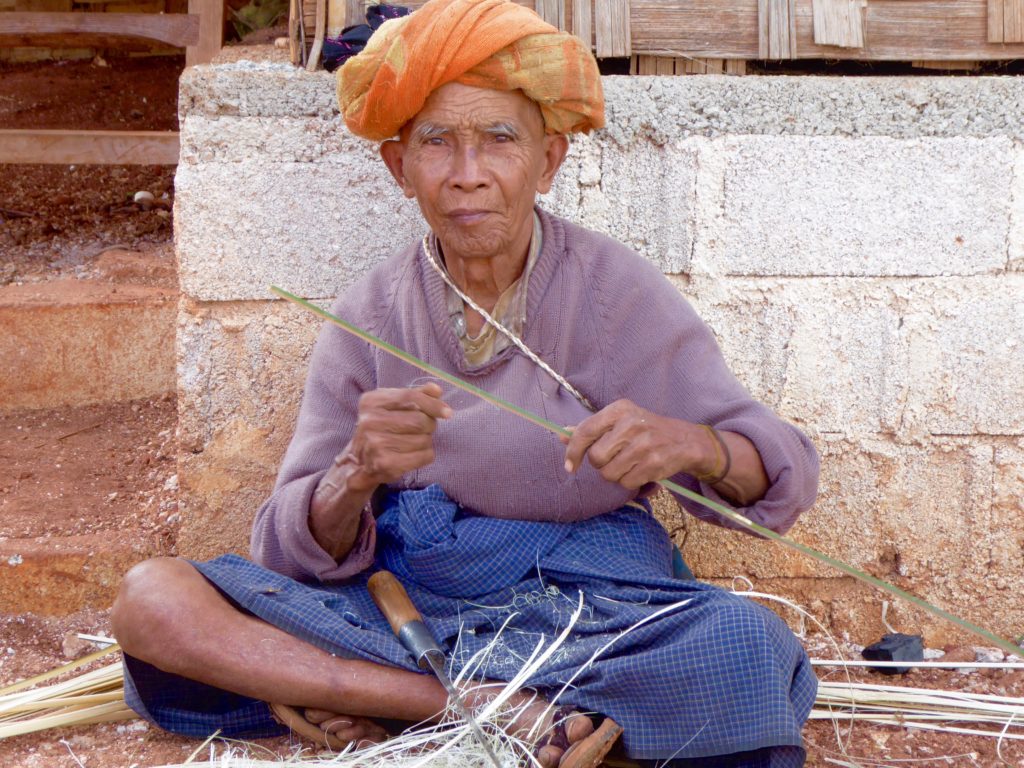 HOW ARE PEOPLE OF MYANMAR (BURMA): LADIES
Even women wear skirt, longyi, but only in clothing because, actually, they seem to be wearing pants.
We have often seen them doing heavy works, such as road works or building houses.
And then we saw them cook and sell food at the market, or ride on a moped with 2 OR 3 OR 4 kids..
We listened to their stories as they told the pains of an ancient tatoo ritual.
And we saw them smoking cigars sitting outside the house while watching traffic.
We have seen them speak out loud and handle the price negotiations. (It is impossible to bargain with a woman in Burma!).
And all this while men were sitting on the chairs for children in the tea rooms… who is the weak sex?? 🙂
Women in Burma have always been very kind with us and gave us smiles and help in every situation.
HOW ARE PEOPLE OF MYANMAR (BURMA): THE POSITIVE SIDE OF OUR EXPERIENCE
Burma's true wealth is the people who live there. It may seem trivial and common but never as in this Country, our experience and memories have been linked more to the people met than to the places seen.
Walk in a village and see people stop watching us and greet us with a warm mingalarbar, or visit a temple and be stopped to take pictures together… they are just some of the special moments that marked our travel month in Burma in close contact with people.

HOW ARE PEOPLE OF MYANMAR (BURMA): THE NEGATIVE SIDE OF OUR EXPERIENCE
As described it so far, experience with people in Burma seems to be only positive.
Actually, there are some downsides. They are linked to the fact that the country is now getting used to tourism and tries to make this a business. There's nothing wrong with that, actually.
By reading various experiences of enthusiastic travellers, we were expecting that in Burma everything was different and yet tourism had not affected places and everyday life. To bring us back to reality were the ubiquitous and pressing taxi drivers with their high rates (compared to the cost of living in the country), taxes only for foreigners to see places of interest, or different prices locals / foreigners.
Despite this, however, Burma for us was one of the most real and exciting experiences ever made.
HOW ARE PEOPLE OF MYANMAR (BURMA): CURIOSITY
We want to close the overview of our experience with people in Burma, with two curiosities that have particularly affected us.
First of all the guide. As in the rest of South East Asia, traffic is crazy and scooters come from anywhere without giving priority to poor pedestrians. In Burma there is a further difficulty given that the guide is on the left, as in England, but many cars have the steering wheel on the left, as in Italy!!
Another curiosity is the chinlone. This is a sport practised throughout the Country. It consists of passing a ball made of rattan (a kind of hard plastic) using legs, feet, head, arms but not hands. Players are in a circle, and it looks like they're dancing. In the video you can see them playing! 🙂
Ciao, siamo Angela e Paolo e a gennaio 2018 siamo partiti per un viaggio a tempo indeterminato. Da allora giriamo il mondo con un budget di 10€ al giorno.

SCOPRI TUTTO NEL NOSTRO LIBRO